London City Airport
Back in February 2015, Newham Council approved plans for London City Airport expansion. At the time, Declan Collier, the airport's chief executive, mentioned: "Expansion will allow us to increase the flight capacity over the next few years that London so badly needs now. This is a great result for the capital and will be a catalyst for significant inward economic growth and regeneration." This redevelopment is essential due to the ever-increasing dependence on London as a critical hub of business. A further reflection of this is the demand for every office rental in the city being sky-high.
"It will deliver a world-class international gateway to Newham and London and generate additional short-haul aviation capacity for the UK."
The expansion plans may be on hold now that London Mayor provided his feedbacks.
Details
Geography and Airport Information
London City Airport (LCY) is the closest to the downtown core compared to the other two major airports used for international travels (London Heathrow International Airport (LHR) and London Gatwick Airport (LGW)).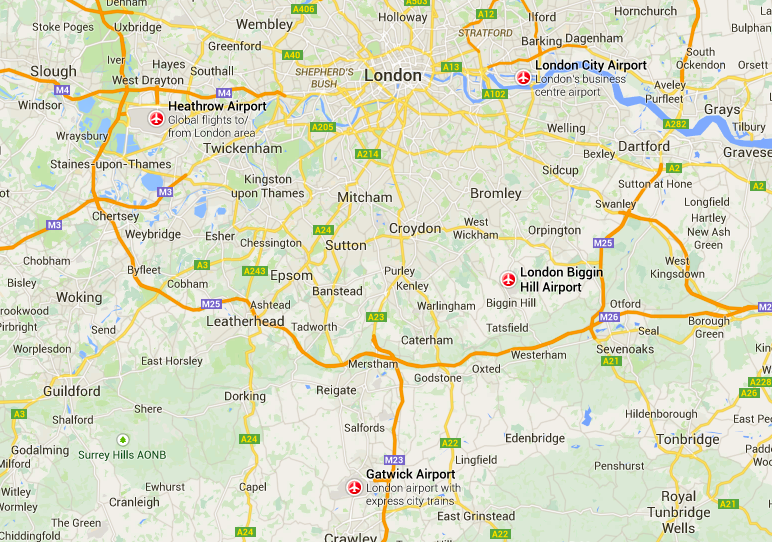 It is located 8.5 miles (13.7 km) from the city center and is connected by the Docklands Light Railway (DLR).
Although it has not published the final 2014 passenger numbers, it is running ~7.6% higher than the 2013 record of 3.3 million travellers in November 2014. Given its physical dimensions of the 1,508m (4,948 ft) long runway and the steep glideslope, the airport is used mostly for European destinations (except for the two British Airways service onboard on Airbus A318s from New York JFK International Airport (JFK)) and is a favourite for business travellers who can easily finish a day's work before catching a flight home. It recently won The Best London Airport award (refer to news article at the 12th London Transport Awards).
Expansion Plans
Originally, Newham Council gave the go ahead to an extended terminal, a new taxi-way and seven additional parking stands for larger aircraft movements. A six-story four star hotel will also be built on location and the total cost would be £200m (refer to the CNBC report below).
LCY said the new capacity will help "ease the pressure" on existing airport infrastructure in London and the UK. Although the expansion does not facilitate a runway extension, the additional flight capacity would increase noise levels for the area residents.
March 26, 2015
In a statement issued on March 26, 2015, the mayor ordered the council to veto the application on the grounds of an "unacceptable" increase in noise that would "blight the lives of thousands of people". This is the same argument used for LHR expansion and is favoring a new airport in the Thames estuary that was dismissed by an independent commission on aviation in 2014 (refer to our coverage on London airport expansions)
Analysis
It is unfortunate that the Mayor did not endorse London City Airport expansion. It would ease congestion at both LHR and LGW until plans are completed on next steps to expand the London aviation market. Without new capacity, the city will fall behind nearby competitors such as Paris de Gaulles International Airport (CDG) and Frankfurt International Airport (FRA) for regional dominance as transfer hubs for ongoing travels to the Middle East and Asia from North and South America.
Final Call
All levels of government and aviation experts should work closer together to execute a plan to solve capacity constraints in London.
Loading ...