2014 Top 30 Busiest Airports In The World
The International Air Transport Association reported that worldwide traffic increased 5.9% from 2013 to 2014 to a record 3.3 billion passengers. Experience The Skies completed an analysis of the Top 20 busiest back in October 2014 (refer to this post for the complete list).
We have completed research based on all published information and came up with an expanded Top 30 list for 2014 . Which airports will make it to the list and who will be Number 1?  Find out more below:
Details
IATA reported preliminary figures for passenger traffic for 2014 (refer to news bulletin). It was good news across the board as strong demand internationally fuelled growth in both revenue passengers and available seats. This resulted in a 0.2% increase of the overall load factor to 79.7%.
The top 30 business airport list is made up of some firsts including:
First entry from South America
First entry from Spain
2 airports from south of the equator
The top 30 airports contributed another 58m passengers (a 3.5% increase) to the overall total in 2014 which represented a 52% share.  The slight drop in this metric can be attributed to the air traffic expansion in countries like India where home airlines are expanding rapidly to gain marketshare (refer to our coverage of the Indian aviation market – post 1, post 2).
Top 30 and Key Analysis
The top 4 airports did not change positions in 2014.
No.1 – Hartsfield-Jackson Atlanta International Airport (ATL) located in the Southeast region of USA continued to hold the title of the busiest airport of the world.  This is a title the airport has held for the past 15 years.
No.3 – Tokyo Haneda Airport (HND) might take over the third spot from London Heathrow Airport (LHR) in 2015 as the latter is impacted by lack of capacity to expand (refer to our coverage on London airport expansions Link 1 and Link 2). HND is also implementing additional daytime slots for international flights in 2015. This will increase passenger traffic.
No. 5 – Los Angeles Airport continues to expand as a hub for three domestic airlines (American Airlines, United Airlines and Delta Air Lines) and has significant traffic from international airlines.
It was a close finish between fifth to seventh place airports (without 650,000 passengers).
No.6 – After a big jump last year from tenth to seventh, Dubai International Airport (DXB) moved up one spot to sixth in 2014. It could be a see-saw race between itself and Los Angeles for fifth in 2015. DXB has the advantage of being a 24 hour airport and is home to Emirates (EK) which has a large collection of Boeing 777-300ER and Airbus A380s for future expansion.
No.7 – Chicago O'hare International Airport (ORD) dropped two places to its lowest ranking in more than a decade. It placed as high as second place behind ATL in 2008. One of the reasons traffic has not expanded as quick is the lack of terminal facilities available for the Airbus A380-800 aircrafts. The airport has plans to build two dedicated gates by mid 2016 for the double decker (refer to news article).
There is a also a tight race between eighth to tenth place in 2014. There are no changes for Paris-Charles de Gaulle Airport (CDG) and Dallas-Fort Worth International Airport (DFW) (home of the longest flight of the world currently – refer to our coverage). Hong Kong International Airport will likely overtake these two airports in 2015 as traffic continues to expand in this Chinese city through its home airline Cathay Pacific Airways (CX).
Dropping out of the top 10 is Soekarno-Hatta International Airport (CGK) located near Jakarta, Indonesia and home for Garuda Indonesia Airlines (U3). The country is currently listed as Category 2 country for air safety by the ICAO (refer to our coverage on what this means in this post). This impacts any home airlines from expanding internationally which limits growth for this airport. It will likely slip further in 2015.
No. 13 – Istanbul Atatürk Airport made another big leap within the top 20 to land at thirteenth in 2014. Turkish Airlines continues to expand rapidly internationally which largely fuelled the airport's jump from No. 39 from five years ago (refer to our coverage on Turkish Airlines' expansion plans).
No. 16 – Singapore Changi Airport (SIN) enjoyed a rapid rise to the top 20 as home airline Singapore Airlines (SQ) expands. This was also an airport by Qantas Airways (QF) as a technical stopover for Australian flights. As QF moves its operations to DXB through its strategic partnership with EK, SIN suffered. Additionally, Middle East airlines have not embraced this airport as much as HKG or Bangkok (BKK).
No.22 – Prior to the impactful statement issued by the ICAO (refer to our coverage), Suvarnabhumi Airport located in Bangkok, Thailand already suffered a major drop in traffic owed to continued operating challenges experienced by its largest tenant Thai Airways international (TG). With this new safety alert in place for the foreseeable future. This will create pressure for this airport. Traffic might drop another 10% in 2015 which may endanger this Thai airport's place in the top 30.
No. 27 – After ranking as high as tenth in 2007, Madrid Barajas Airport (MAD) dropped as low as No. 29 last year before rebounding in 2014. As Spanish economy and home airline Iberia (IB)'s operations continues to improve, expects this airport to slowly climb its way upward.
No. 30 – Brazil is making its first appearance on the list with São Paulo–Guarulhos International Airport (GRU). Its passenger numbers was heightened by hosting the World Cup in 2014 and preparations for the 2016 Summer Olympics in Rio de Janeiros.
Geographic Representation
The following is a geographic representation of the Top 30 airport traffic.  North America continues to lead with a 39% share which Europe slipped 20.5% due to GRU's entry on the list replacing Munich International Airport (MUC). Middle East continues to growth and will likely reach the 5% share with just DXB.
Below is the top 30 busiest airports on a map for easy reference. Note that only GRU and CGK are below the equator.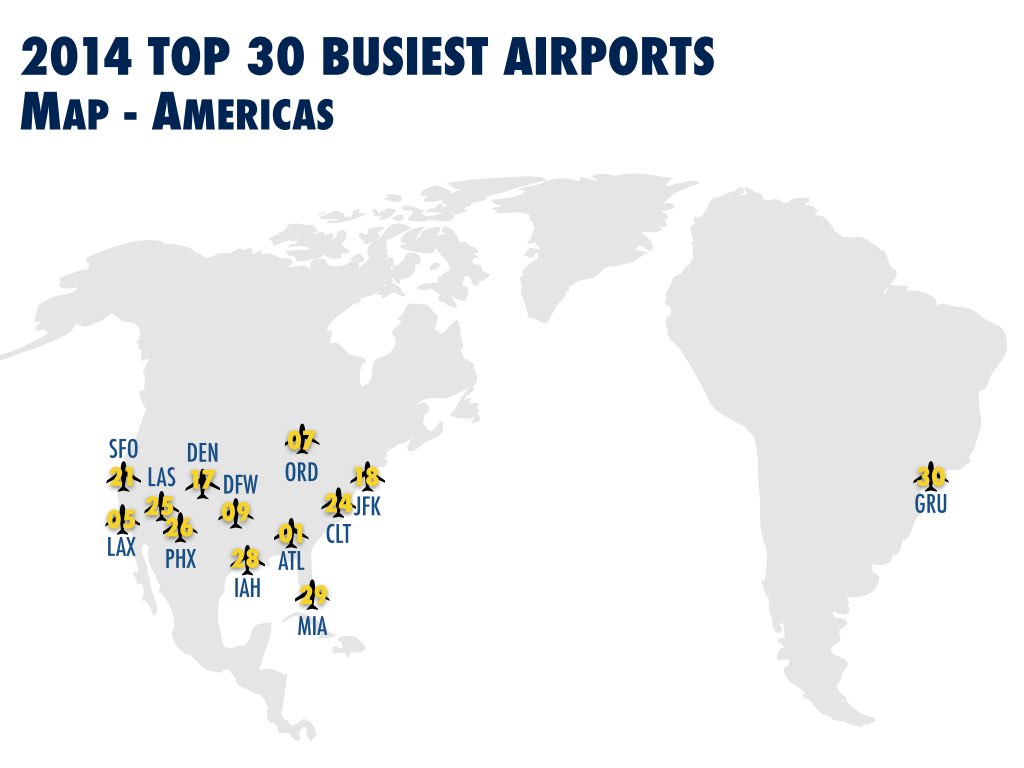 Final Call
The Top 30 busiest airports have been revealed by Experience The Skies. In the next set series of posts, we will continue to examine these airports, reveal their secret to success and predict the 2015 list.  In the next post, we will discuss these airports operationally (refer to this link for further analysis).
Loading ...